LST IN HLYWD's Story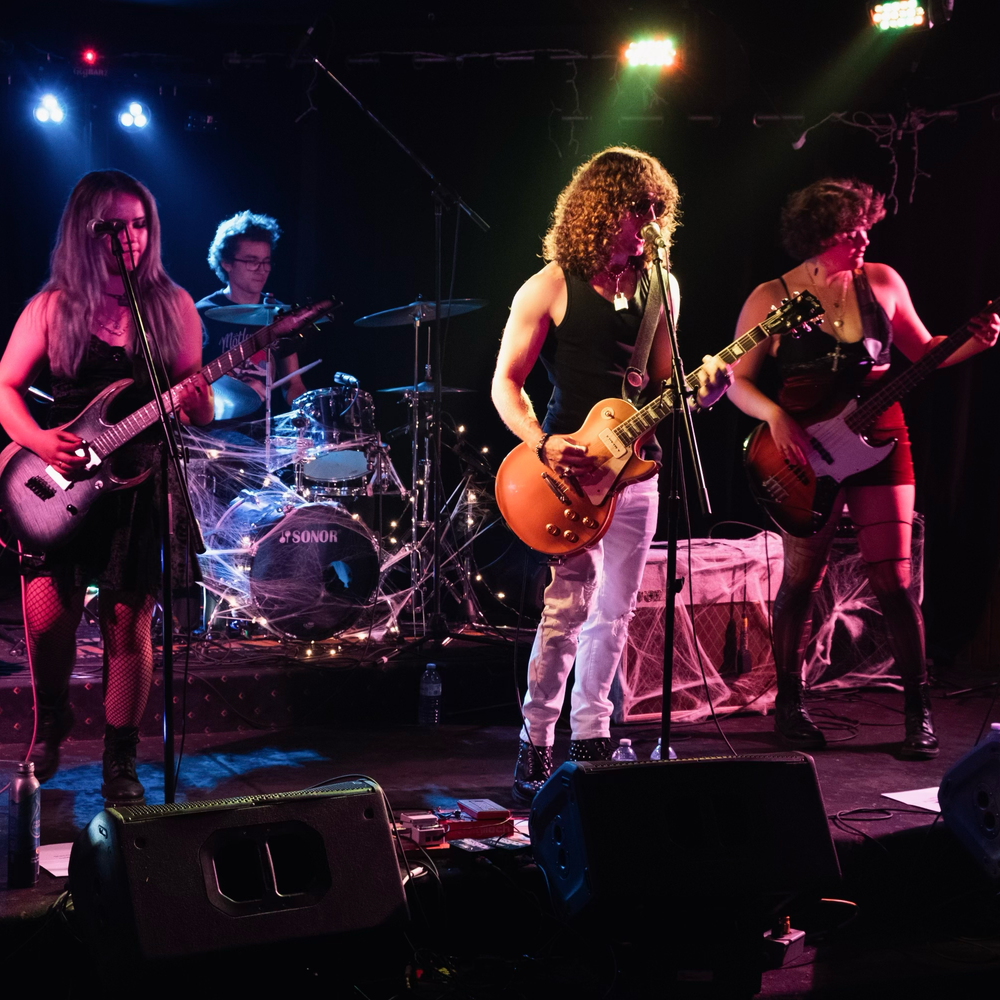 LST IN HLYWD is a modern rock/pop punk band born out of the Covid Pandemic. This Toronto-area supercharged indie group of 18-20-somethings are laying down tracks that could easily slide into soundtracks for the summer of 2022 — and that's precisely what they set out to do.
 While most teens were sequestered to their bedrooms, their parents' living rooms — the mundane and mediocrity of less to do, and even little to see due to the global pandemic of 2020 — Damian Rose decided to get creative, and LST IN HLYWD was born. By the fall of 2021, the little-band-that-could released their first single entitled "Bittersweet", and have recently grown to over 40K followers on social media following the releases of "Wish You Were Her(e)" and "Summer Valentine". The group has nowhere to go but up into a stratosphere built on the shoulders of their idols: Fall Out Boy, All Time Low, Chase Atlantic, Palaye Royale, Van Halen, among others.
 What this group of resilient and resourceful youths were able to achieve during a two year full-stop on social interaction was utilize their Gen Z know-how and find ways to communicate and practice — mainly on Zoom calls. This stroke of genius allowed the newly-found band a chance to write, record, collaborate, and even play even before they'd ever stepped into the same room together. They have already been in widely acclaimed music blogs including Record World (2nd oldest oldest music industry publication behind Billboard), Tinnitist (the most widely read music blog in Canada), Cashbox Canada, BK On The Scene, and many more. They are currently working on their first EP release which is being produced by Maxamillion Haunt and Nick Lewert from The Haunt (A well known Florida based Rock band).
Meet The Band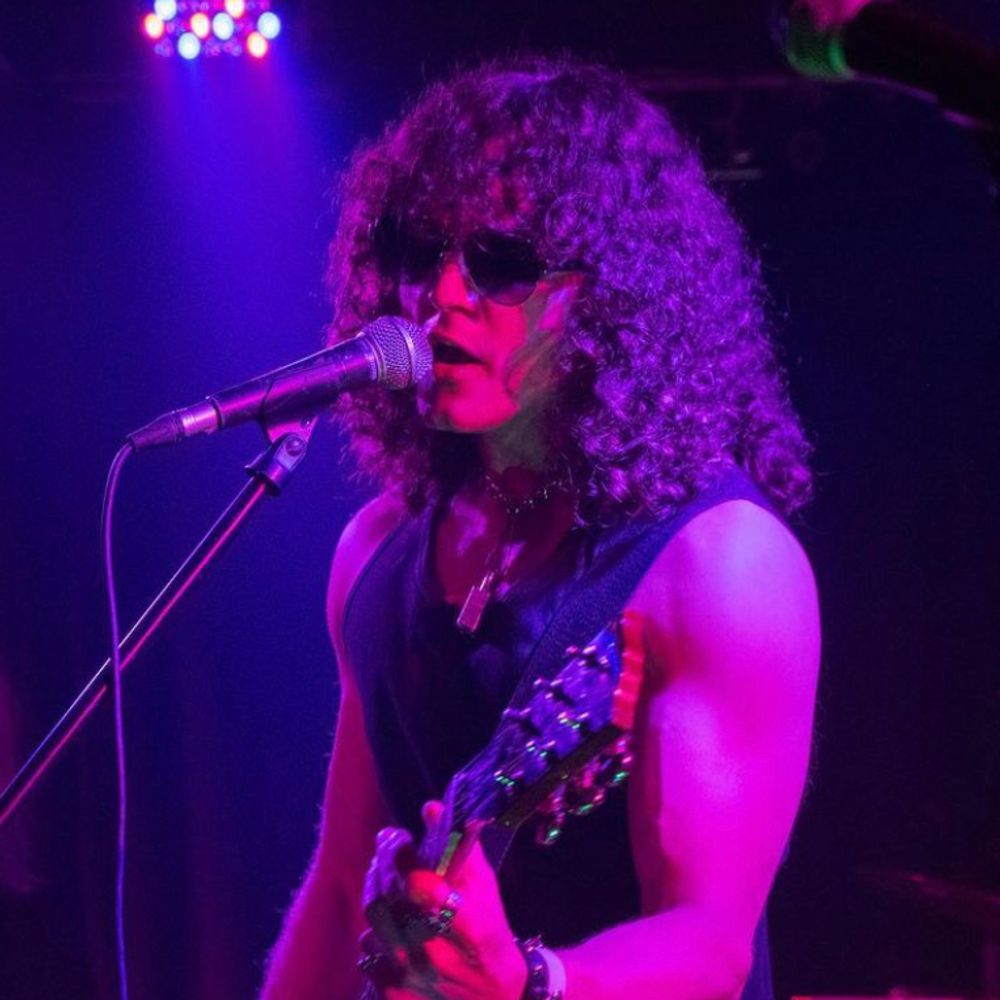 Damian Rose
Lead Singer/Lead Guitarist
Damian Rose is the lead singer and lead guitarist for LST IN HLYWD. He has a wide range of experience within the music and entertainment industry. Playing 40+ shows a year since he was fifteen, he is well versed in playing live shows as well as being able to play many different instruments including: vocals, guitar, drums, keys, ukelele, and bass. His former band, James Marrin and The Midnight Riders, came in the top 10 in The Hideout's "The Bout Competition" with over 100 different bands when they were just 16/17 (with most of the other bands consisting of members 20+ years of age).

Damian is also heavily influenced by Musical Theatre and was The Prince in Unionville Theatre's production of Rogers and Hammerstein's Cinderella in 2019 just before the Covid lockdown. He has a wide range of influences including: Machine Gun Kelly, Chase Atlantic, All Time Low, Panic! At The Disco, Guns N Roses, Van Halen, Mötley Crüe, as well as musicals such as Heathers, Beetlejuice, and Carrie.

Outside of music, Damian enjoys working out and hanging out with his friends. He is currently attending Ryerson University for The Creative Industries. He also enjoys baking, watching Netflix, and watching horror movies.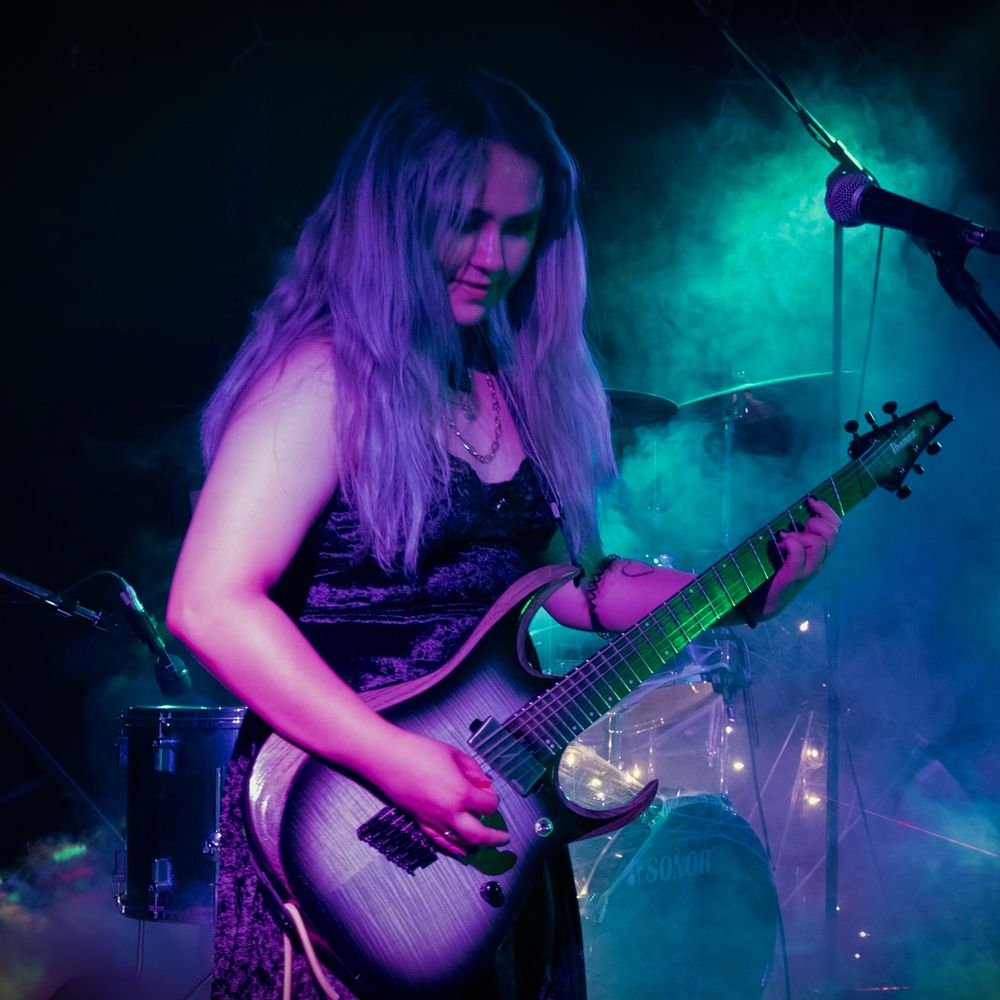 Catherine Carter
Rhythm Guitar/Keys
Catherine Carter is LST IN HLYWD'S keyboard and rhythm guitarist.

Catherine started playing piano at the age of 4 and has learned to play various other instruments throughout the years, such as the guitar, alto saxophone, and drum kit. She also has a passion for mixing and music production.

Catherine has had a strong background in classical piano since a young age, but in middle school she fell in love with other genres of music after listening to BØRNS and other artists. She now prefers playing and producing genres such as indie, pop, alternative, rock, and punk music.

Her all-time favourite artists are BØRNS, Barns Courtney, James Bay, Panic! At The Disco, and Fall Out Boy.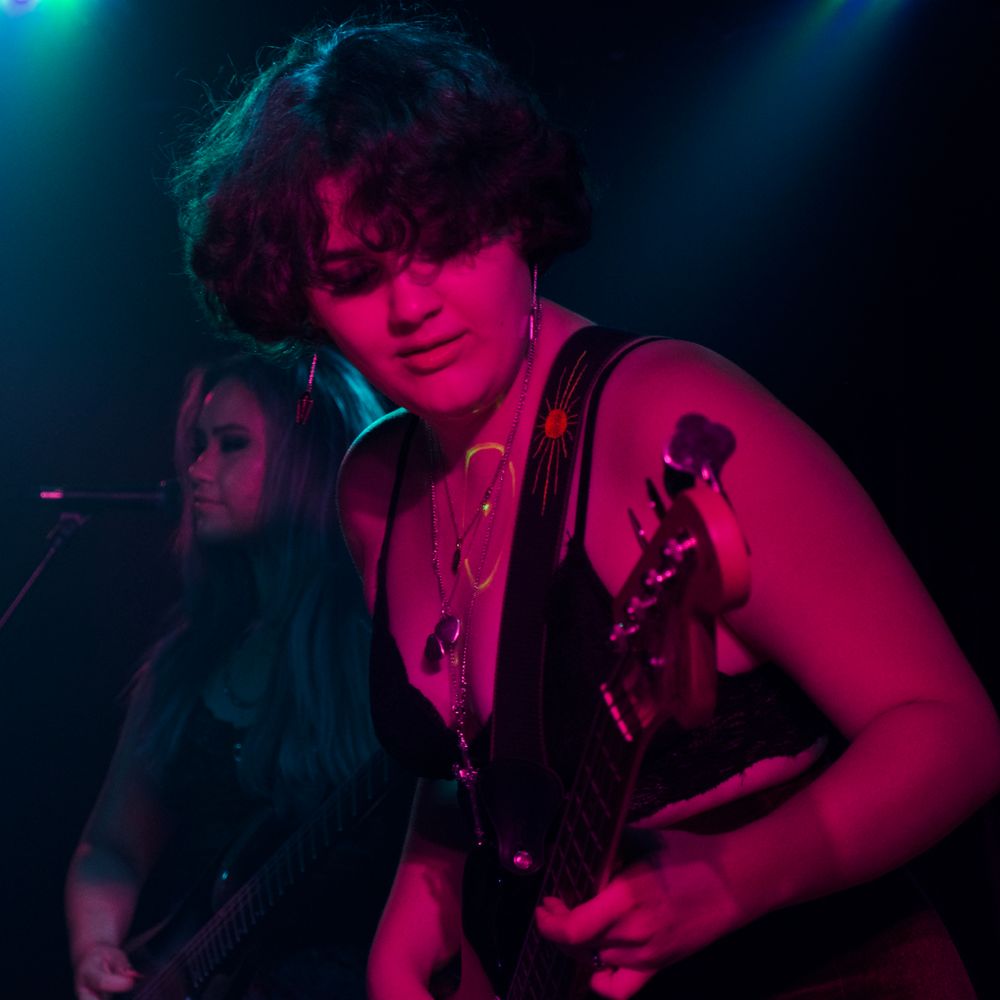 Lana
Bassist
Lana started out as the visual artist for the band LST IN HLYWD. She's created almost everything the band has used: the logo, thumbnails, photography, etc. She's recently started playing bass out of covid boredom, and started playing for LST IN HLYWD when their previous bassist left.                                      
Her musical prowess involves a couple of other instruments including baritone and violin. She's always had an interest in music, as she's taken music theory courses in University, and has a wide range of taste for different genres including (but not limited to) rock, jazz, pop, disco, pop punk, alternative, classical, folk, glam metal, musical theatre, and many more.                                  
She loves experimenting with new things, which is reflected in her art, hair/clothing styles, and hobby exploration.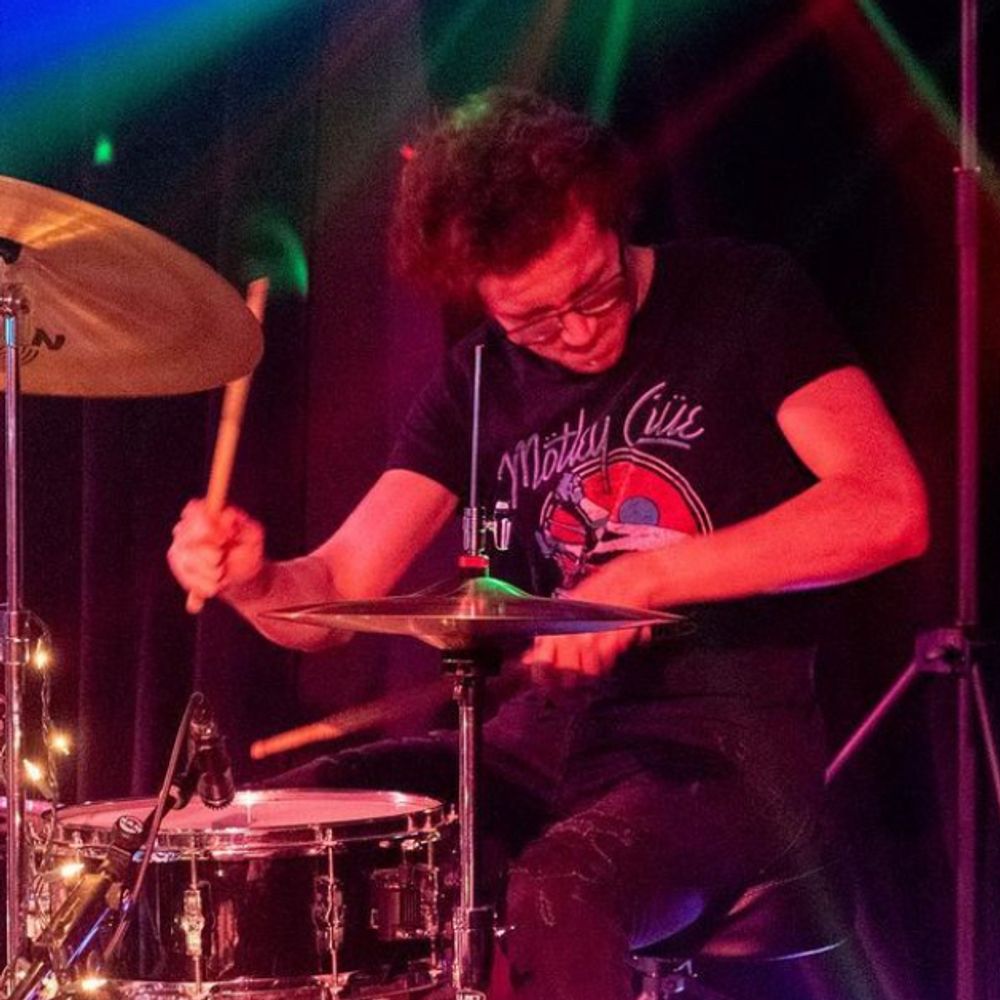 Chris King
Drummer
Chris King has been playing the drums for ten years and has been a musician for even longer. After giving up on playing the piano, Chris decided one day that he wanted to learn the drums to be able to play in a band with other musicians.

For the past couple years (before covid) Chris played in a band that played regular shows including playing at Nathan Phillips Square and Yonge-Dundas Square in Toronto. Aside from playing the drums, Chris helps with behind the scenes work for the band including some audio production and is the main video editor.